Meda's Tlingit names are Tśa Tsée Náakw and Khaat kła.at, adopted Iñupiaq name is Tigigalook, and adopted Cree name is Boss Eagle Spirit Woman "Boss." Her clan is Naanyaa.aayí and she is a child of the Kaach.aadi. Her family comes from Shtuxéen kwaan (now referred to as Wrangell, AK.) Meda's lineage also comes from Oregon, Washington, and the BC/Yukon Territories. Currently she lives on Dena'ina lands in Anchorage, Alaska with her fiancé James "Chris" Paoli and their eight children.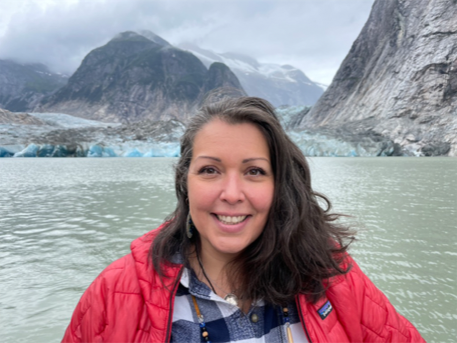 Meda Dewitt is a Lingít traditional healer, certified massage therapist, ethno-herbalist, educator, and virtual and in-person events coordinator. DeWitt has associates degrees in science and human services; a bachelor's degree in liberal studies: women's rites of passage; a master's degree of arts in Alaska Native traditional healing from the Alaska Pacific University; and is currently in an Indigenous studies doctoral program at Te Whare Wananga o Awanuiarangi, New Zealand.
Meda focuses on a multi-faceted approach to achieving holistic broad spectrum movement building. Meda's work revolves around the personal credo "Leave a world that can support life and a culture worth living for." Her work experience draws from her training as an Alaska Native traditional healer and Healthy Native Communities capacity building facilitator.
References to Meda's Work
Written
Audio
Video
Community Organizing